1011 views
| | |
| --- | --- |
| Genre | chillout, female vocalists, downtempo, rock, funky |
Vassy (Ultra Records | Warner | BMG)
www.YouTube.com/VassyMusic
www.Facebook.com/VassyFans
www.Twitter.com/VASSY
www.MySpace.com/VASSY
This Australian born beauty was raised in the tropics and has been singing since the tender age of 3. With exotic features stemming from her Mediterranean heritage, this starlet on the rise is anything but predictable. Vassy's unique sound, style and energy come from a melting pot of influences and experiences as an international recording artist.
Vassy is a singer/songwriter who's written songs for other artists as well as hit television shows and film projects. Her music has been heard on several major network television episodes, motion pictures and video games such as Grey's Anatomy (ABC), Ugly Betty (ABC), Windfall (NBC), Notes from the Underbelly (Warner Bros.), In The Motherhood (ABC), Drop Dead Diva (lifetime), When in Rome (Disney Movie Trailer), Last Holiday (Paramount Pictures), Powder Blue (Blue Snow Productions), Chill Out to the Sounds of Vassy (Sprite Campaign), FIFA (EA Sports Video Game), The Sims (Video Game) and a recent Hilton Hotels ad campaign.
Vassy is currently working on a new album project between Los Angeles, New York and London. She is collaborating with top producers and remixers who include Richard Vission (U2, Lady GaGa, Radiohead, Weezer), Chico Bennett (Madonna, Hilary Duff), Camara Kambon (Mary J. Blige, Macy Gray, Dr. Dre, Eminem) and Track n Field (Nelly Furtado).
Her new single, "History" is out now on Ultra Records with a national club tour in the works.
Vassy is also recognized for her philanthropy work with various charity groups in Australia. She was the Youth Ambassador for Australia Carers, an organization for young carers, people under the age of 26 who provide care in a family affected by illness, disability, mental health and/or drug or alcohol issues of one or more family members or friends.
Vassy put together various music/hip hop workshops in remote areas of Australia and New Caledonia including Indigenous communities and detention centers. For more info go to the links section at http://jeepneymusic.com/members/vassy/
News and Highlights
-AOL's PopEater premieres Vassy's music video for "History" with an exclusive interview and first look.
-Clear Channel's Z100 in New York and iHeartRadio.com feature Vassy on their main sites as one to watch!
- Apl.de.Ap of the Black Eyed Peas is teaming up with Australian singer/songwriter Vassy to highlight various philanthropic organizations and support local Australian communities. http://www.jeepneymusic.com
-Vassy signs on as the headlining act for NOKIA sponsored "Skate Almighty" Summer UK tour.
- Vassy's debut album, "My Affection" is nominated for Australia's Best R&B Album
-Ministry of Sound releases Vassy's "Cover You in Kisses" single on their critically acclaimed, "Chillout Sessions.
"
-Vassy takes the stage in front of a live audience of 80,000 as part of Channel 10 Australia's "Celebrate Australia Day" concert, which is broadcast to over three million TV viewers!
-Time Know Music includes Vassy's "Wanna Fly" on a CD sampler distributed with Time Magazine in the USA.
-Vassy receives a Professional Writer Development Award from APRA/BMI.
Top Tracks
1
Just Cant Get Enough
2
Wanna Fly
3
LOST
4
Nothing To Lose
5
Somebody New (feat. Sultan + Shepard)
6
Loverman
7
Trouble 8
Concrete Heart
9
Desire
10
History
Top Albums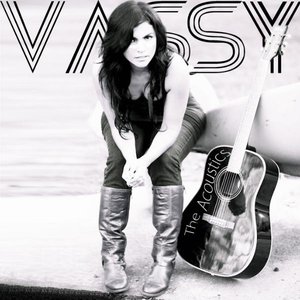 The Acoustics, Covers
tracks